Welcome to JinJu Patisserie | PDX

Award Winning Chocolatier and Pastry Chef Duo
A Local Patisserie with Passion
Here at JinJu Patisserie, our philosophy is that exceptional pastries should be an experience of all five senses. We believe that all-natural ingredients and unique flavors make for a better dessert, and that the best pastries and chocolates come from a true passion for the craft.
Located in the Williams District of Portland, Oregon, JinJu Patisserie is on a mission to make Portlanders proud.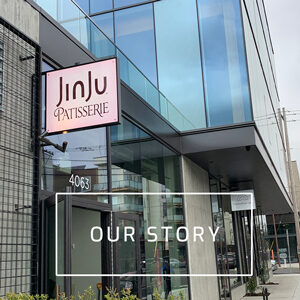 Walk-in Orders Welcome.

Please text us at 503-828-7728 if you
have any questions regarding product.

We are open
Thursday to Saturday 8am – 4pm
Sunday 8am – 3pm

Where to Find Us
4063 North Williams Ave., Portland, OR
(In the Silica Building – corner of North Williams Ave. and North Mason St.)
— Store Hours —
Monday – Wednesday: Closed
Thursday – Saturday: 8 a.m. – 4 p.m.
Sunday: 8 a.m. – 3 p.m.

WALK-IN CUSTOMERS WELCOME
TO-GO ORDERS ONLY
No seating available inside. Seating is allowed outside at picnic tables.
Thank you for your continued love and support.