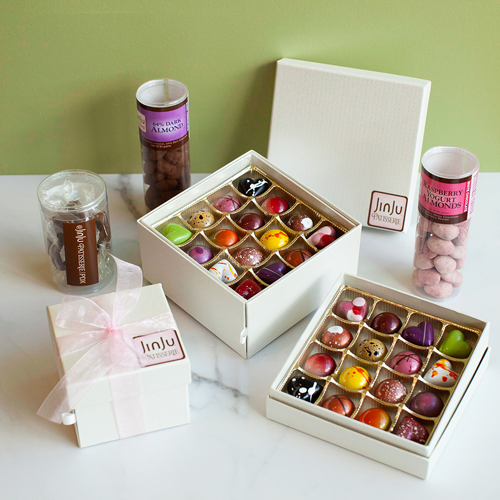 JinJu Luxury Chocolate
Collection

Have you tried our bonbons? Enjoy a bite size chocolate that contains a thin layer of hard shell, filled with flavored, smooth ganache. All our luxury chocolate is hand-made in house using the highest quality, freshest ingredients such as local hazelnut, figs and berries. Treat yourself to our decadent chocolate or give as a beautiful gift for a friend or loved-one.

Chocolate Covered Almonds
Hand-crafted caramelized almonds in 3 delectable flavors. White chocolate raspberry-yogurt, milk chocolate matcha, and dark 62% chocolate. All equally delicious! Give them as a gift or enjoy an afternoon snack.

Stop in our store and indulge in our selection of unique flavored chocolates including fruit and nut mendiants and rich buttery, salted caramels made using local dairy and espresso beans from Nossa Familia coffee.